SHROOM MAGIC MIX
With Every Purchase You Make You Are Supporting Youth Empowerment.
Why Choose Shroom Magic Mix?

✔ Powerful combo of 5 adaptogenic mushrooms + anti-inflammatory spices

✔ Clean, organic ingredients

✔ Only 5 calories

✔ No added sugar

✔ Versatile! Make it hot, mix it in smoothies & juices, or try it on popcorn!
Shipping & Returns

Free shipping Australia-wide!

Want to find out shipping prices to other countries? Check out our shipping page here.

We have a Love It Guarantee! If you don't love our product, send an email to team@mynaturesharvest.com with your order #, receive a full refund, and keep the pack! Give it to a friend to try!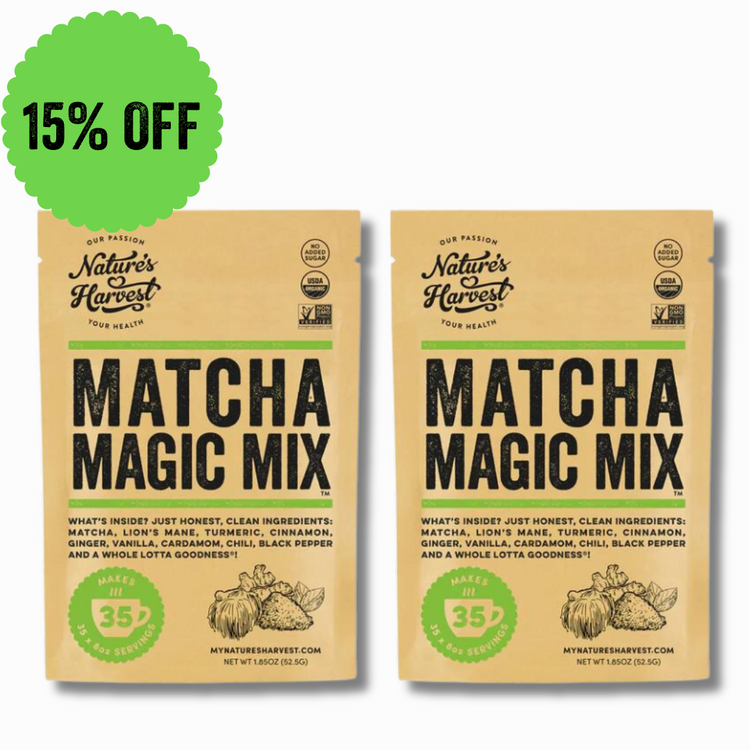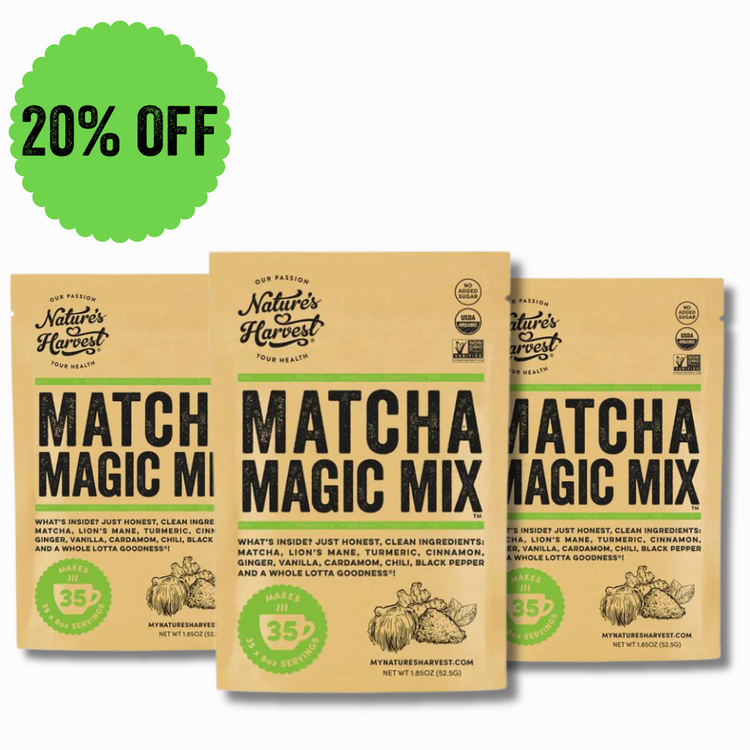 Product Details
Nutritional Facts

✔ Ingredients: Chaga, Cordyceps, Lion's Mane, Reishi, Turkey Tail, Turmeric, Ceylon Cinnamon, Ginger, Clove, Nutmeg, Whole Ground Vanilla, Cardamom, Black Pepper, Chili

✔ Only 5 calories

✔ No added sugar

✔ Safe for many dietary restrictions

✔ Pure organic ingredients

✔ Compatible with weight loss diets including Keto, Whole30 and Paleo
What Does It Taste Like?

Shroom Magic Mix has a unique, chai-inspired blend of spices that makes for a delicious, slightly spicy, invigorating cup of magic. The mushrooms bring a grounding earthiness, ginger and chili bring a vibrant warmth, and vanilla some natural sweetness!

You don't have to take our word for it though, let's hear what real customers have said about the taste:

"The funny thing is, it contains mushrooms ....I don't even like mushrooms. I don't eat mushrooms. But, I love this drink! Go figure! What I love best about it is all the flavors that jump out, from the spices and mushrooms, mixed with my coffee, a touch of milk and coconut sugar. Wowie.......The flavors are like a chef made coffee drink, so elevated!"
How Do I Prepare it?

To make up Shroom Magic Mix, simply add 1/2 - 3/4 tsp. Shroom Magic Mix to 12 oz. of your favorite hot or cold milk or milk alternative. Stir well and add sweetener if desired!

Want to mix it up a different way? Check out our recipes page for a variety of delicious ways to use Shroom Magic Mix!

Here is how one customer mixes up her cup of goodness :)

"I add a pinch to teas, coffee, even just plain hot water!! It's delicious!"
Why is it good for me?

Maybe you're thinking... why mushrooms? Well, these mushrooms have been used traditionally and currently being studied for a number of health-promoting properties, including improving mental clarity and increasing mental focus, improving athletic performance and endurance, supporting a healthy immune system, combating stress hormones and promoting better quality sleep. Sounds magical!

It is definitely a whole lotta goodness :)
Love It Guarantee

We understand is some instances it's just not your cup of tea.
Email us at team@mynaturesharvest.com and we'll give you a 100% refund!
For Health-Conscious Lifestyles
Less stress, better sleep, enhanced mental clarity

Brain fog? 3:00PM slump? You need a little magic! Shroom Magic Mix utilizes the incredible properties of Chaga, Cordyceps, Lion's Mane, Reishi and Turkey Tail to fight fatigue and keep your brain on top of its game!

Super healthy, organic, AND tastes awesome?!

Have you ever tried a MUSHROOM latte? It only takes one taste for it to become your new favorite morning ritual! Wake up with the healthiest way to start your day.

Improved gut health & immune system support

Let Shroom Magic Mix fuel your health with the antioxidants and anti-inflammatory compounds of mushrooms and spices that work together to support healthy digestion and immunity!
Wholefood Ingredients
Lions Mane

Lion's Mane has been studied to enhance mental clarity, clear up brain fog, protect brain function, boost mood and promote overall wellbeing.

Reishi

Reishi may be able to do it all... restore balance to both body and mind. It is traditionally used to reduce stress and anxiety and encourage better quality sleep PLUS support a healthy immune system.

Turkey Tail

Restore & invigorate! Research shows Turkey Tail feeds beneficial gut bacteria, prevents infections, regulates cholesterol, and combats stress.
Chaga

Energy & vitality! Chaga has properties that improve athletic performance, endurance and sustaining your daily energy levels. This antioxidant powerhouse can restore gut helath and promote healthy glowing skin.

Cordyceps

Cordyceps mushrooms help give your immune system the best support and are traditionally used to improve physical performance, encourage vibrant healthy skin and fight fatigue!

Black Pepper

Enhances nutrient absorption and bioavailability of turmeric, so you get to reap all those anti-inflammatory benefits!
"True" Cinnamon

Researched to improve some key risk factors for heart disease and balances blood sugar levels to curb sugar cravings.

Whole Ground Vanilla

Vanilla has been used for centuries and regarded as a 'superfood' for enhancing mood and brain health.

Chili

Used to improve circulation which can benefit people with cold hands and feet as well as people who sit behind a desk all day. Also a metabolism booster!
Ginger

Traditionally used to relieve nausea plus is an anti-inflammatory to help reduce muscle pain and lower risk of infections.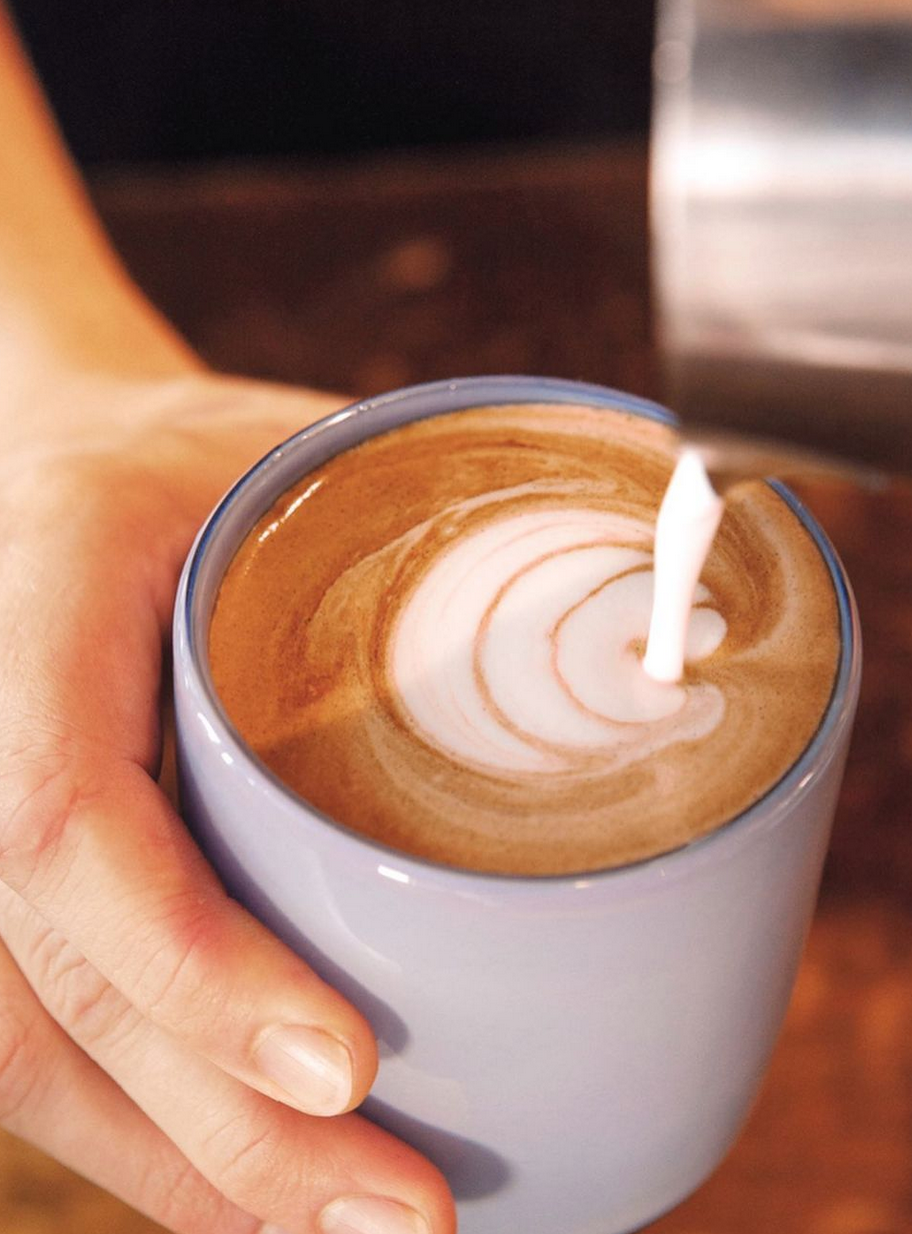 Clean, Wholefood Ingredients
✔ Highest Quality Organic Ingredients
✔ Third Party Lab Tested
✔ No Bad Stuff
✔ Great For Every Body
✔ Good for The Environment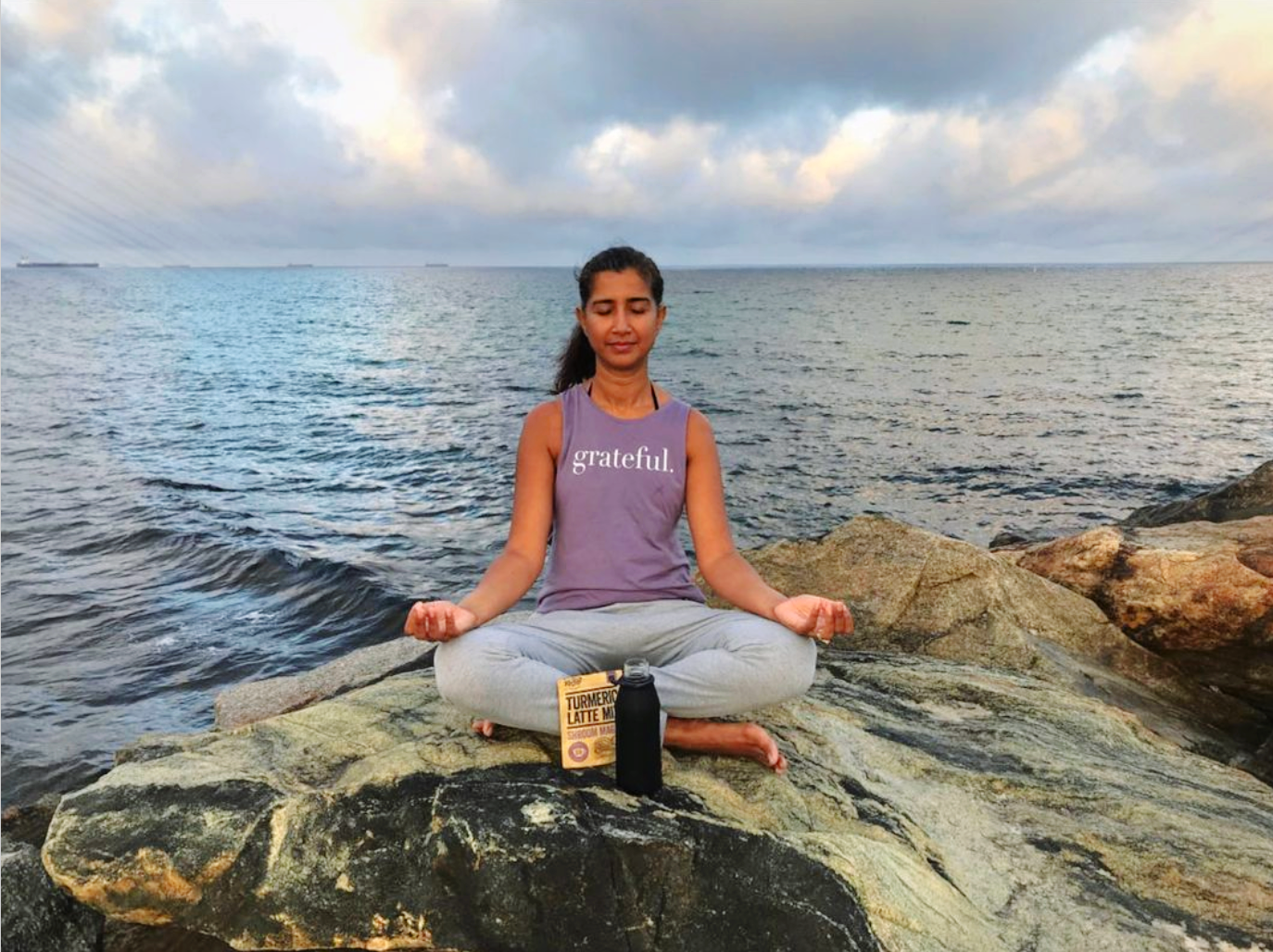 Healthy Body, Mind & Energy
✔ Mushrooms traditionally used to reduce stress & encourage better quality sleep
✔ Lion's Mane for a clear mind & elevated mood
✔ Natural energy without the caffeine jitters
✔ Highest quality turmeric with 5% curcumin
✔ Up to 2000% increase in the absorption of curcumin with the addition of black pepper
TESTIMONIALS
Mushrooms-What Can I Say

⭐ ⭐ ⭐ ⭐ ⭐

So glad I purchased this product. It has so many wonderful types of
mushrooms. I usually put it in my coffee. Delicious and spicy. Soups
are a good choice as well. I'm a HUGE fan of mushrooms. The keep me balanced and focused. A little bit goes along way:)

Like Christmas in a cup

⭐ ⭐ ⭐ ⭐ ⭐

Wow, this is so good. I'm not a fan of cinnamon and this has got me changing my mind. It's like Christmas in a cup ⛄🎄. I mixed it with vanilla almond milk and used my matcha powder whisk and it mixed so perfectly and also paired super well with my green coffee powder. I am absolutely blow away by how delicious this is... definitely will be getting more and keeping it on hand 😃

My favorite healthy latte

⭐ ⭐ ⭐ ⭐ ⭐

This is my morning pick me up these days. I'm the classic coffee snob, but instant coffee has improved tremendously. Most mornings I make a mushroom latte using this, instant coffee and oat milk whipped up in my hot chocolate hot pot. Fantastic start to the day.Excellent, less expensive and much more healthy than anything in the coffee shop.
If you're happy, we're happy.
Money back guarantee
We understand sometimes it's just not your cup of tea.
We offer a satisfaction guarantee on our 35 serving packs.
Email us and we'll give you a 100% refund!
Why "Nature's Harvest"?
Clean Ingredients
All our products are made with
USDA-certified organic ingredients
Packed With Goodness
Caffeine Free, Organic, Vegan
Paleo, Gluten Free, Sugar Free
Empowering Youth
With every purchase, a donation is made to sponsor scholarships for youth
Creating Dignity
Providing employment for people with special needs